Few places in the world match Montecito's elegance, sophistication, and enthusiasm for the outdoors—the best version of active opulence. And while its larger, more notable sibling of Santa Barbara garners much of the acclaim, Montecito might be the true prize among Santa Barbara County's collection of exceptional coastal communities.

Occupying a prominent perch between the Pacific Ocean and the Santa Ynez Mountains, Montecito has long been one of the most sought-after communities in the region, coveted especially by celebrities and deep-pocketed home buyers due to its more private, less tourist-driven setting.

Montecito also provides residents with quick access to a bespoke outdoor lifestyle of hiking, golfing, tennis, and abundant beach and water-based pursuits, as well as a wealth of dining, shopping, and everything in between, from buzzy private clubs to beloved local farmers markets.

Beyond the idyllic coastal setting and roster of A-list celebrity elite, Montecito's most notable trait is the community's broad range of micro-neighborhoods. Below, we explore nearly 20 upscale enclaves, each with prominent landmarks, distinctive luxury residences, unparalleled character, and charm befitting The American Rivera.
West Montecito
Rural, remote, and featuring many of Montecito's most breathtaking vistas, West Montecito is a highlight among those seeking old-world ambiance and classic California charm. The neighborhood, which sits just below the southern slopes of the Santa Ynez Mountains, features a trove of gorgeous estates, wonderfully eclectic properties, and the exceptional, highly-rated Cold Spring Elementary School. Outdoor enthusiasts will love the rugged landscape and proximity to nearby parks and hiking trails. Adding to West Montecito's allure is Westmont College, a respected 4-year private Christian institution situated on 111 lush, stunning acres, and the even more verdant
Lotusland
, a 37-acre estate and botanical garden featuring 23 gardens and more than 1,000 varieties of plants.
Eucalyptus Hill
Though technically located just beyond Montecito's western boundary, Eucalyptus Hill is a coveted enclave that serves as the perfect midway point between Santa Barbara's waterfront and Montecito Village, right in the heart of the America Rivera. In addition to convenient access, Eucalyptus Hill boasts many beautiful, high-end homes. From large lot estates on private streets to well-appointed golf course homes along the fairways of the
Montecito Club
, which includes a Jack Nicklaus Signature Golf Course overlooking the Pacific Ocean, the biggest challenge to buying here is choosing which home you love most.
Pepper Hill
A secluded community just north of the Montecito Club, Pepper Hill has several expansive custom homes, many of which boast breathtaking ocean views and top out at more than 8,000 square feet of floor space. It's a testament to Montecito real estate's luxurious offerings. Though private and representing some of Montecito's most opulent levels of luxury, Pepper Hill's premier, centralized location places the fortunate homeowner mere minutes from Santa Barbara beaches and an even shorter trek to some of Montecito's best shopping and dining.
Lower Village
For those who genuinely want to be in the middle of it all, Lower Village is the first and only option on the homebuying list. While home lots in this cozy, tight-knit neighborhood are smaller than other areas by Montecito standards, you'll still come away with a residence draped in luxury. Besides, it's a relatively small concession in return for the Lower Village's unparalleled walkability. Even from its northernmost point at the intersection of Hot Springs and Sycamore Canyon/Middle Road, you're a 20-minute walk to the
Montecito Country Mart
shopping center, a 20-minute walk to the Montecito Club, and an easy 15-minute jaunt to
Coast Village Road
, Montecito's primary commercial hub including many of the area's best restaurants and shopping.
Butterfly Beach
Including some of Montecito's best coastal homes, Butterfly Beach boasts a mix of sprawling homes and a handful of slightly more modest beach cottages. This serene enclave is synonymous with coastal luxury. In addition to having the neighborhood's famous namesake beach and Pacific Ocean steps from your front door, the opulent, five-star
Four Seasons Resort, The Biltmore
, and the prestigious member-only social club,
Coral Casino Beach and Cabana Club
, are right next door at the end of Channel Drive. Both are currently closed for renovations, but locals and visitors are highly anticipating their re-openings.
Bonnymede & Montecito Shores
If you're interested in a low-maintenance, high-end lifestyle overlooking the ocean, it's worth exploring our following two neighborhoods—the Bonnymede & Montecito Shores Beach Condos. Bookended by the Four Seasons, Biltmore and Coral Casino to the west, and the Montecito Sea Meadow to the east, these sibling condos are surrounded by luxury. Offering buyers their own brand of bespoke high-level extravagance, Bonnymede (built to mimic tropical, pagoda-style homes) and Montecito Shores (built in Spanish style) feature amenities such as a clubhouse, pool, spa, tennis court, the community rose garden, and direct beach access to Hammonds Beach—a favorite among locals.
Sea Meadow
The gated and private Sea Meadow community is unlike few others in Montecito. Stately elegance is personified via a distinct French Country-style motif, encompassing every house in the neighborhood. Along with many of the properties offering oceanfront views, the community is also close to the
Rosewood Miramar Beach resort
, a singularly grand beachfront resort hotel that is among the best such properties in the country.
Virginia Road
Tucked between the PHC and the Bonnymede, Montecito Shores, and Sea Meadows neighborhoods, Virginia Road is a coastal jewel that is arguably Montecito's most traditional, old-school luxury enclaves. Featuring enchanting cottages, duplexes, and condos, and a prime location within the coastal zone, near the Four Seasons Biltmore and the Rosewood Miramar Beach resort, Virginia Road is one of the region's most popular spots for short-term rentals.
Miramar Beach
When picturing coastal California cool, the images one conjures include quaint yet luxurious beachfront cottages separated from the ocean only by a long sliver of sand. In Montecito, that vivid imagery calls upon the oceanfront cottages of Miramar Beach—quirky, cool, and their foundations nestled right into the sand. Positioned on a gentle curve around its namesake beach, the Miramar Beach neighborhood sits a few steps from the Rosewood Miramar Beach resort and a short drive from Montecito's Upper and Lower Village shopping and dining districts.
Fernald Point
Occupying a small peninsula of land just south of the PCH as it enters Montecito, Fernald Point is the equivalent of Miramar Beach growing up, ditching the cottage, keeping the cool, and trading up to a beachfront estate steeped in unparalleled grandeur. Featuring 28 architecturally diverse homes, it's rare when one of these waterfront gems becomes available—only three have changed hands this decade. When one does come available, have your best offer ready, as the premium required for this level of beachfront seclusion and the chance to stroll up the beach to the Rosewood Hotel for a drink is well worth it.
Montecito Oaks
Montecito Oaks is one of the area's most underrated neighborhoods, offering smaller lots but exuding a warm community charm on par with the neighboring Lower Village. Walking distance to Coast Village Road, the Four Seasons and Coral Casino, and Hammond's Beach, the neighborhood itself is one of the areas most conducive for experiencing genuine close-knit vibes with your neighbors.
Casa Dorinda
, one of the country's premier retirement facilities, is half a mile north of the neighborhood.
The Hedgerows
Coming by its name honestly and in a most spectacular fashion, Montecito's Hedgerows neighborhood is characterized by gorgeous and stately hedgerows that line almost every street. While the foliage evokes the notion of English streets and drives, the neighborhood is even more well-known for its numerous historic and architecturally significant homes. As a bonus for families, the outstanding kindergarten through 8th grade
Laguna Blanca private school
sits at the heart of the neighborhood, behind its own collection of majestic hedgerows.
Ennisbrook
The guard-gated community of Ennisbrook is one of Montecito's elite real estate enclaves. Large homes occupy even larger lots, with many featuring panoramic views of the ocean. Behind the monitored entrances, residents indulge in a number of upscale amenities, including pools, tennis and pickleball courts. Though not within the community gates, both the esteemed
Valley Club of Montecito
and the private K through 8th grade
Crane Country Day School
sit adjacent to Ennisbrook, which further elevates what is among the region's more sought-after places to purchase Montecito real estate.
Birnam Wood
Toward Montecito's eastern boundary and just north of Ennisbrook, you'll find Birnam Wood, a traditionally styled golf course community popular with homeowners seeking an active social scene. Palatial single-level residences dominate the landscape, many of which overlook pristine fairways and greens or offer majestic mountain views. Beyond its guard-gated entry, residents can access a host of amenities—swimming, tennis, and membership to the
Birnam Wood Golf Club
, which features a private clubhouse, premier dining, and Robert Trent Jones, Sr golf course. Also close by is the Valley Club of Montecito and just a short drive to Montecito's Upper Village.
East Montecito
North of Birnam Wood, East Montecito offers a peaceful, tree-filled environment, more akin to a rural forest than a coastal seaside enclave—with a blend of grand estates and charming single-family homes. Like West Montecito, the east version is preferred by those who appreciate a more remote setting while keeping Montecito's more social side within reach—Montecito's Upper Village is a 5-minute drive, and Coast Village Road is only 10 minutes away.
Golden Quadrangle
The Golden Quadrangle is home to Montecito's most noteworthy real estate, a testament and celebration of sheer, unapologetic opulence and grandeur. Here, sprawling estates and a bespoke assortment of amenities inside and outside of homes are not optional accouterments but part of the expectation. In other words, the Golden Quadrangle is Montecito's crown jewel. The community includes the iconic
San Ysidro Ranch
, which offers residents a taste of world-renowned luxury, from gourmet dining to exclusive spa treatments.
Casa Del Herrero
, by architect George Washington Smith, stands out as a masterpiece of Spanish Colonial Revival architecture and adds to the architectural mystique of the neighborhood. Just beyond the boundary of the Golden Quadrangle is the highly rated public
Montecito Union School
and the restaurants & shopping of Montecito's Upper Village round out the neighborhood's incredible lifestyle amenities.
Riven Rock
Finally, steeped in history, Riven Rock is a private sanctuary that features estate homes on par with those in the Golden Quadrangle. However, given the dense foliage and semi-remote setting, Riven Rock is often an afterthought in the cadre of Montecito neighborhoods, which suits those who seek out this rustic mountainside hideaway just fine. You're still close to and very much part of the best that Montecito has to offer and have some of the areas best hiking trails in your backyard.
Ready to choose your Montecito neighborhood, home, and lifestyle?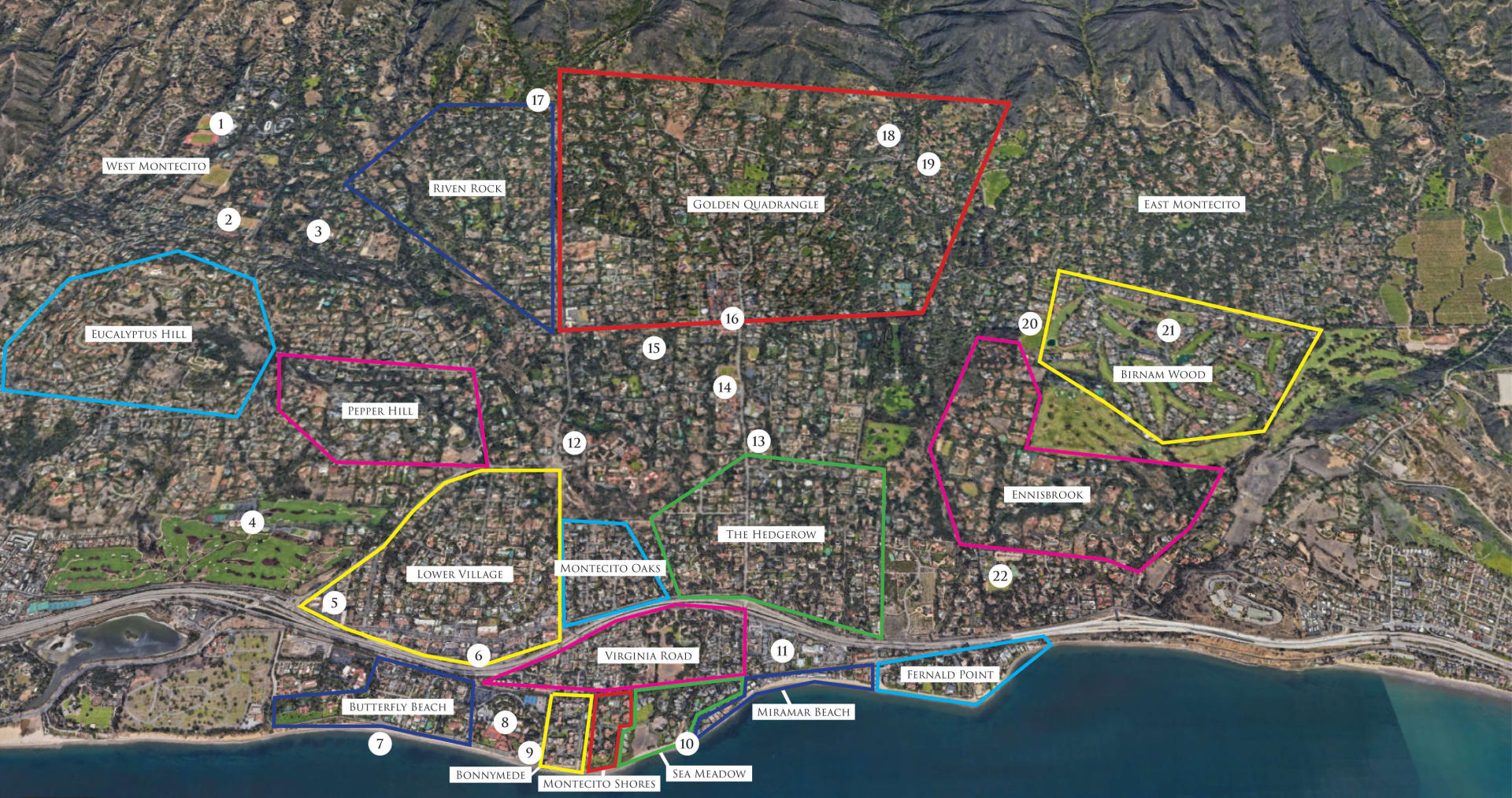 Westmont College

Cold Springs Elementary (K-6)
Lotusland
Montecito Club
Montecito Country Mart
Coast Village Road/Lower Village
Butterfly Beach
Four Seasons Biltmore
Coral Casino Beach & Cabana Club
Hammonds Beach
Rosewood Miramar Beach
Casa Dorinda
Laguna Blanca School (Private K-6)
Montecito Union School (K-6)
Casa Del Herrero
Upper Village
Hot Springs trail head
San Ysidro Ranch
San Ysidro trail head
Valley Club of Montecito
Birnam Wood Golf Club
Crane Country Day School (Private K-8)